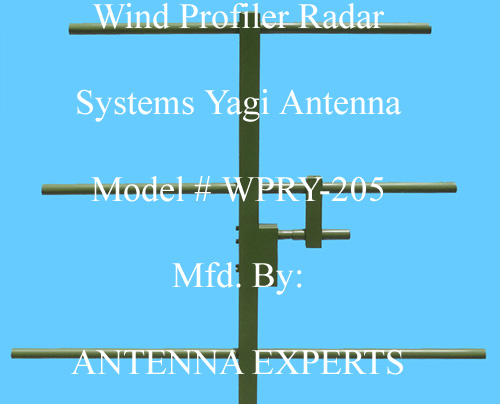 Antenna Experts WPRY-205 wind profiler radar yagi antenna design reflects innovative modern antenna construction. The unique design of the wind profiler radar yagi antenna feed which works as matching device to keep the VSWR low resulting in increased efficiency of the yagi antenna.

High quality epoxy-based electrostatic powder coating on the complete wind profiler radar yagi antenna provides extra protection against corrosion in saline weather present in coastal areas. The wind profiler radar yagi antenna comes in pre-assembled condition with permanently fixed radiating elements on the support boom. The small surface area on the yagi antenna minimizes wind resistance and conserves tower loading capacity. Wind profiler radar yagi antenna has IP66 rating.

Radiating elements (Reflector, Dipole & Director), support booms & mounting flange of WPRY-205 wind profiler radar yagi antenna have been constructed in high quality 6063T6 ultra corrosion resistant architectural anodize aluminum alloys to prevent corrosion. The wind profiler radar yagi antenna uses special gamma match feed which eliminates the use of folded dipole.

The wind profiler radar yagi antenna is supplied with N-Female termination fixed on the support boom to avoid any loose pigtail. The mounting hardware supplied with the antenna is made of type 316 marine grade stainless steel which facilitates mounting on either vertical or horizontal members. The antenna is factory tuned and doesn't require any field tuning or adjustments for its operation.

Please contact us for complete technical datasheet including electrical parameters, mechanical parameters, environmental parameters in pdf format which includes the complete high resolution picture of wind profiler radar antenna, radiation patterns, Frequency Vs VSWR graph and mounting flange drawing.