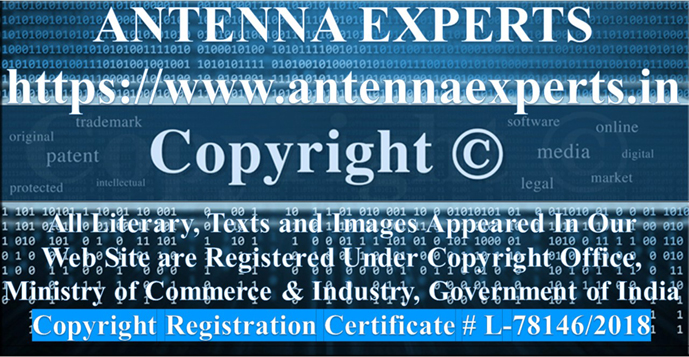 Copyright © 2020 Antenna Experts, all rights reserved.

This copyrights & trademarks policy of Antenna Experts sets forth guidelines particular to conduct on the Internet to help you avoid infringement of Antenna Experts copyrights and trademarks rights. This policy is subject to change at any time and without notice. The Internet has vastly expanded our ability to exchange information in a virtually unrestricted manner; however, it has also introduced new means by which intellectual property may be exploited and infringed. This document outlines the best way to freely exchange information via the Internet while ensuring adequate protection for all the components of the Antenna Experts brand, including Antenna Experts logos, trademarks, and copyrighted materials.

Antenna Experts website https://www.antennaexperts.in is maintained and operated by Antenna Experts. The materials/contents/images featured on this website are exclusively owned by Antenna Experts, and is protected by copyright, trademark and other intellectual property and other applicable laws of India. The contents displayed on this website may be downloaded, subject to copyright and proprietary information exclusively retained with Antenna Experts and terms of this policy.

The contents of this website shall not be distributed, modified, transmitted, used, reused, made derivative works of, reported for public or commercial purposes, including, text, images, audio, and video or otherwise, without the prior written permission of Antenna Experts. However, subject to the above, the materials and contents must be used accurately and strictly for the permitted purpose and not in a derogatory manner or in a misleading context. Wherever such materials and contents are being used, the source must be prominently acknowledged. These policies shall be governed by and construed in accordance with the Indian Laws. Any dispute arising in connection with this policy shall be subject to the exclusive jurisdiction of the Courts at Delhi only.

All articles, texts, alt tag, meta tag, html tag, images and other resources published on our website are protected by International copyright laws. Any infringing may be subject to liability. All the texts, descriptions and images appeared in our website https://www.antennaexperts.in are registered under the Copyright Office, Ministry of Commerce & Industry, Department of Industrial Policy & Promotion, Government of India, under registration certificate # L-78146/2018

You cannot copy and reproduce the texts images and articles online from https://www.antennaexperts.in on your web site without prior written permission. You are also not allowed to edit and reuse any material posted on this website. As indicated above that all the data, description and images are copyrighted under the copyright act. if you want to download the soft copy of copyright registration certificate please send us a request for the same.

Republishing the texts, images and articles content on other websites or even distribution in print format is a copyright violation and we will file Digital Millennium Copyright Act (DMCA) complaint to take down violating website or even legal complaint against such website owners to Indian Cyber Crime department or international copyright laws. Please note that under Section 512(f) of the DMCA, any person who knowingly materially misrepresents that material or activity is infringing may be subject to liability.

These policies shall be governed by and construed in accordance with the Indian Laws. Any dispute arising in connection with this policy shall be subject to the exclusive jurisdiction of the Courts at New Delhi India only.

The following are the registered trademark and brand name of Antenna Experts:



Antenna Experts does not collect any personal information about a visitor to Antenna Experts Portal (hereinafter 'Website') unless that visitor explicitly and voluntarily provides it. If you choose to provide us with your personal information when you visit our website, we use it only to take necessary action on your request.

We do not sell or share any personally identifiable information volunteered on this site to any third party except as may be required in terms of any Government Order, Notification, Policy or request. Any information provided to this website will reasonably be protected from any, misuse, unauthorized access or disclosure, alteration, or destruction in connection thereof.

We gather certain information about the User, such as Internet protocol (IP) address, domain name, browser type, operating system, the date and time of the visit and the pages visited, and if you reached this website from another website, the address of that referring website. We make no attempt to link these addresses with the identity of individuals visiting our site unless an attempt to damage the site has been detected.

Unauthorised use of the Antenna Experts information and trademarks may result in prosecution to the fullest extent of the law.

Antenna Experts reserves the right to change the information contained on this site without notice.