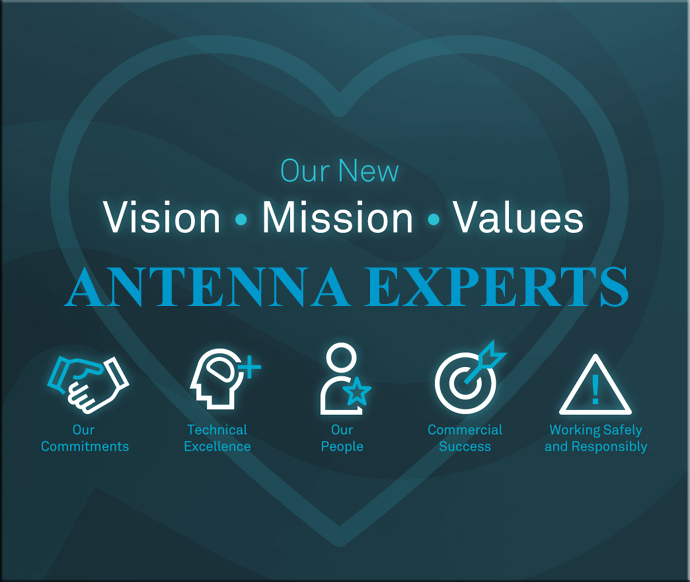 Antenna Experts an ISO 9001:2015 (Quality), ISO 14001:2015 (Environment) & ISO/OHSAS 18001:2015 (Safety) registered firm, wants to become a global leader to design & develop customized and challenging antenna products for wireless industry. In order to earn that leadership, we will reassure you that our method of conducting business will synchronize with your requirements, your time, and your budget. In every step of our business relationships, customer satisfaction is our primary goal. "We are committed to total customer satisfaction through ceaseless improvement in quality, technology, "on-time deliveries" and work to meet our "ZERO DEFECT" quality policy.

Our Vision of being globally recognized clearly defines Antenna Experts expertise and strategic direction, our Mission statement supports our Vision and drives excellence throughout our business to deliver high quality antenna solutions on time through technical and service excellence.

Our vision is to be the global antenna supplier/partner of choice for the defence, aerospace, security and telecommunications markets. At Antenna Experts, we understand things that unify us and make us unique. A clear mission and meaningful values guide our strategic business decisions, strengthen our brand and enable us to provide advanced technology solutions.

Antenna Experts is committed to fostering consultative partnerships with customers, applying insight regarding antenna technology to the industries RF challenges. Antenna Experts will offer support to customers with a sense of urgency, maintaining quick decision paths in order to provide solutions and answers to customer questions promptly.

Antenna Experts will maintain cutting-edge antenna technology, so that customers can continue to enhance their network performance as new technologies emerge. The company will focus not only on quality, durability and exceptional performance, but also on efficiency of antenna design so that lead times meet customers demanding schedules. The company promises to maintain a consistent method of evaluating these facets of the organization in order to exceed expectations on a daily basis - because for Antenna Experts, customer service is a culture, not a department.

Antenna Experts Key business principals:

We Are Engaged
Our spirited energy and engagement are evident in our commitment to our work, passion, and enthusiasm for what we do and the speed by which we achieve it.

We Are Professional
We are honest professionals who understand the importance of knowing our business, exceeding expectations and avoiding politics along the way. We drive success through teamwork, transparency, mutual respect and accountability. We operate to the highest ethical standards in everything we do. By treating our clients, co-workers and suppliers fairly, honestly and with respect we earn their trust and share sustainable success. We are committed to an incident-free workplace, every day, everywhere. We continuously strive to minimize the impact of our activities on the environment.

We Are Customer Focused
We know our customers' success is paramount to our own and is based on our ability to talk openly, set clear targets to meet their needs, and consistently and reliably deliver on our commitments. We will add value and strive for excellence in the eyes of our customers in everything we do.

We Are Innovative
Innovation and integration are the cornerstones of our business. We understand the importance of innovation in meeting the ever-changing needs of our customers, and that those opportunities for products, services, and business systems must be nurtured and developed quickly. We will push beyond existing limits and models in all aspects of our business.

We Are Entrepreneurial
We are an integrated global team focused on our business, customers, partners and vendors to provide industry leading solutions. We are not afraid to try new things and leverage our decentralized structure to make speedy, data-driven decisions, take calculated risks and find new opportunities.

Values
We will deliver on our key business principles with our own set of values:


| | |
| --- | --- |
| Integrity: | "We operate with integrity to deliver strategic growth opportunities for our customers, value to our owners, and a thriving, collaborative culture for our diverse employees." We believe that making the ethical decision under difficult circumstances demonstrates respect for our company, our customers and our people. As a result, we work diligently to maintain honest, fair business practices. |
| Agility: | "We help our customers solve business challenges and adapt to change quickly." The marketplace evolves in very fluid, dynamic ways. To succeed in such an environment, we help you rapidly adapt to changing trends, market demands and new technologies-with a focus on speed, accuracy and diligence at every turn. |
| Innovation: | "We drive innovation in networks and technologies with high-performance, high-quality products." The best and brightest ideas-those that help you achieve and sustain long-term success-often arise from a thoughtful, original perspective. We innovate to help you maintain the competitive advantage. Successful companies possess a clear understanding of their values and objectives. |
| Good humour: | Enjoy who we are and what we do. Lets not take ourselves too seriously. Smile a lot and enjoy being here! |
| Creativity: | Don't just do it by the numbers. Be creative and come up with new and better ways to do things. |
| Vision: | As we go about our "day to day" we do so with a vision and purpose of where we are headed. |
| Fairness: | We enjoy our work because we can enjoy a clear conscience about what we are doing and where we are going. |
| Speed of Info: | Speed of information and product is the KEY in ensuring we offer a world class service to our customers. |
| Best In Class: | We want every requirement to be filled on time, and with an attention to detail that is simply a step (or more!) ahead of our competition. |
| Profitability: | Profitability is not optional for our company. Profitability will allow us to reward our team, and is the key parameter, which we will use to measure our success. |