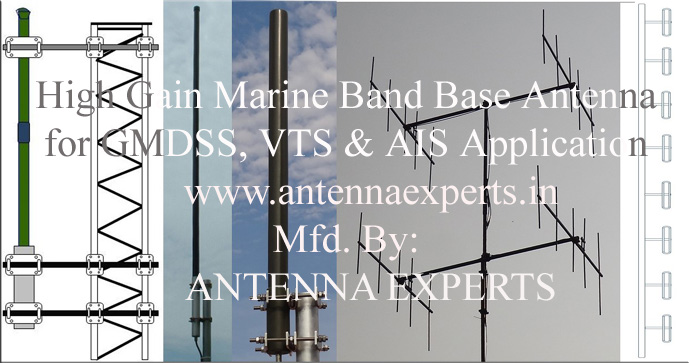 Marine Antenna manufactured by Antenna Experts are highly suitable for Global Maritime Distress and Safety System (GMDSS) communication equipments used to increase maritime safety and make it easier to rescue distressed ships, boats and aircraft.

The GMDSS system is intended to perform the function of alerting (including position determination of the unit in distress), search and rescue coordination, locating (homing), maritime safety information broadcasts, general communications, and bridge-to-bridge communications.

Antenna Experts ADY-156-162 dual stacked yagi antenna design reflects innovative modern antenna construction and designed to increase 3dBi gain in same direction wheres ADYS-156-162 dual stacked yagi antenna to increase the coverage in different direction which can be installed in two different directions to cover a wider sector or in back to back configuration for bi-directional coverage. The dual stacked yagi antenna is supplied with a stacking pipe, power divider and phasing harness cable as standard accessories.

The AC7-156-162 is a marine band high gain fiber glass collinear antenna and designed to provide 7.5dBi gain over entire marine band 156-162 MHz. The high gain marine band collinear antenna is supplied in two segments for easy of handling and shipping and can be assembled in the field without any hand tools.

These MC series omnidirectional marine band whip antenna covering the entire VHF General Marine Band 156-162 MHz. with 3 dBi and 6 dBi. gain. The marine band antenna does not required any groun plane for normal operation.

The MC series VHF marine band omni-directional Collinear Antenna is rugged all weather model uses high class brass and 6063T6 aluminum alloy and does not require any field tuning or adjustments.

All junctions of marine band antenna are fully welded to prevent RF inter-modulation and antenna is completely protected within a high-tech ruggedized ABS or Fiber glass radome to ensure survivability in the worst environments.

The ABS or Fiber Glass enclosure has excellent transparency for RF signals and enough strength to withstand specified wind loads.

The MC series marine band collinear antennas are center fed design which eliminates the distortion of the radiation pattern and ensures a true omni-directional horizontal pattern. The special stub matching is used for smooth VSWR and constant gain over the entire marine band.

The marine band collinear antennas are consist of large diameter brass radiating elements stacked vertically, fed in phase. The marine band antenna termination is enclosed at bottom of the antenna for complete weather protection. The marine grade stainless steel mounting hardware is supplied with the marine band antenna.

Marine band antenna can be supplied with 2 ways or 4 ways ratchet mounting hardware to enable the user to mount on the deck or on the side of wall.